Marinetrans (MT) has joined the Sustainable Aviation Fuel (SAF) programme of Air France KLM Martinair Cargo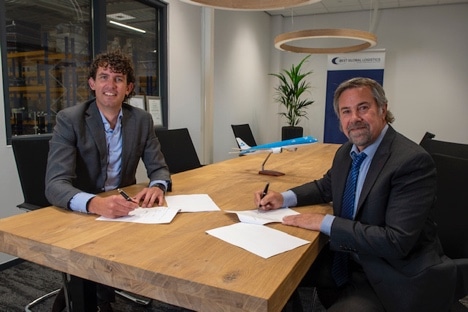 Air France KLM Martinair Cargo and Marinetrans team up to launch the first low-carbon airfreight route in the global forwarding of ship spares.
Marinetrans (MT) has joined the Sustainable Aviation Fuel (SAF) programme of Air France KLM Martinair Cargo (AFKLMP Cargo) for its 2021 marine logistics shipments, as a crucial part of their Going Green strategy. By joining the SAF programme, MT is sharing our commitment to leading the industry towards a more sustainable future.
John Burgstra, COO Marinetrans says: '' We are very pleased to have AFKLMP Cargo at our side, as a leading partner who is active in promoting and operating the reduction of carbon emissions in the air freight industry. We are prepared to assume responsibility for the future generation of air freight; we genuinely want to empower our customers and the entire industry to make more sustainable decisions. Through innovative tailor-made solutions, ambitious programs and reliable business practices, we strive to deliver green logistics solutions for our world. Now and in the future.''
Marinetrans actively focuses on industry's carbon emission reduction. As a global freight forwarder, MT wants to set an example for many others in the industry; therefore they have recently introduced their Going Green strategy. The SAF programme is an important part of the Going Green focus and enables MT to connect people and goods through sustainable logistics.
To meet the increasing awareness of the shipping industries' focus on environmental issues, Marinetrans welcomes this initiative as a part of its dynamic service offering. MT responsibility extends beyond providing time-critical logistics solutions. Transportation is vital for global trade, but it also has a negative impact on the environment. "A slight change in our way of working can make a big difference to our world."
''For decades, we have been transporting ship spares and marine equipment worldwide. Now, with the Cargo SAF programme we can optimize the process while maintaining a sustainable focus. We are incredibly proud to cooperate with our sister company BGL as the first marine logistics provider to operate the SAF programme on our major trade lanes,'' says Steven Forsberg, Managing Director of Marinetrans.
Marinetrans is a specialized company dealing exclusively with marine spare parts forwarding and logistics since 1991. Our company has a unique system developed with ship owners and managers that save clients time and money. We have free storage facilities in 22 locations strategically located as to where the majority of spare parts are sourced. Marinetrans has an extensive network and specializes in door to deck global deliveries of marine spare parts.
Marinetrans Media contact
Marius Heyerdahl – Sales and Marketing Director, Europe
T: +47 6400 2300
M: +47 9824 7801
Email: marius@marinetrans.net
Want to know about the services that we can offer to you?