Houston, Tropical Storm Nicholas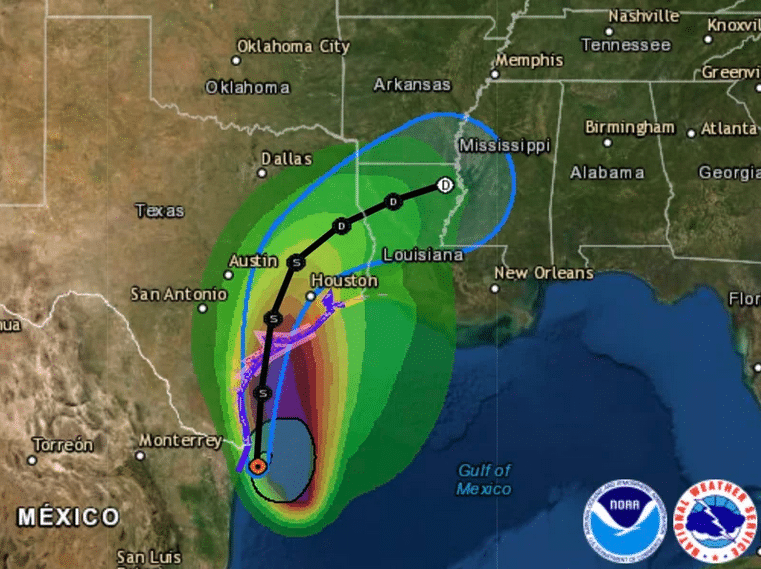 Tropical Storm Nicholas creates major rainfall flood threat to parts of the Texas and Louisiana coasts and brings strong wind gusts and storm surge. Nicholas is centered over 100 miles south of Port O'Connor, Texas, and has made landfall along the middle Texas coast on early Tuesday Morning at 12:30am LT. Bands of rain containing gusty winds are spreading into the Texas and Louisiana coasts right now. Tropical-storm-force winds gusts have been clocked this morning along the middle Texas coast, including in Corpus Christi.
We have already started making preparations with all potentially exposed freight at the MT USA Houston. Warehouse that would have been in danger of flooding has now been moved into covered and dry areas. Our top priorities are the safety and well-being of our people and protecting our customers' freight.
MT USA's Houston office & warehouse have continued operations until 1-2pm, Monday 13 Sept. After being upgraded to Hurricane status, Port of Houston announced that it would halt operations at its container terminals on Monday afternoon and keep them closed at least through Tuesday morning. However, as Nicholas has recently been downgraded to a depression, the Port of Houston will resume normal operations on Wednesday 15th.
MT USA's Houston team members, supervisors, and management will still be working regular hours during this event. As the situation continues to evolve, please don't hesitate to contact your account manager or our customer service team for assistance. The situation is fluid, and as such, Marinetrans USA is keeping a close eye on developments. Regular updates will be communicated as the situation develops.
Want to know what services we can offer for you?