Weekly update COVID-19 | Week 2 | 2022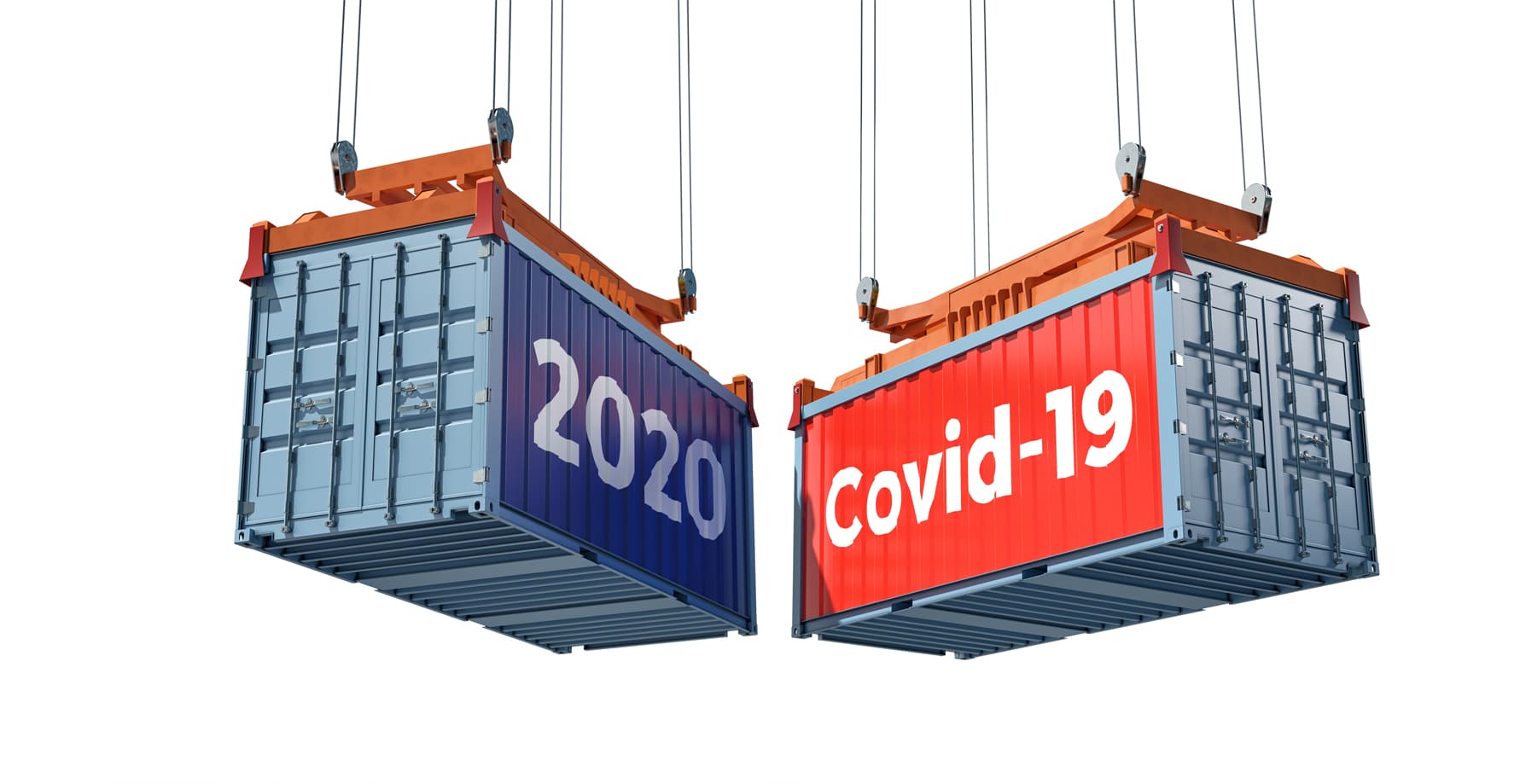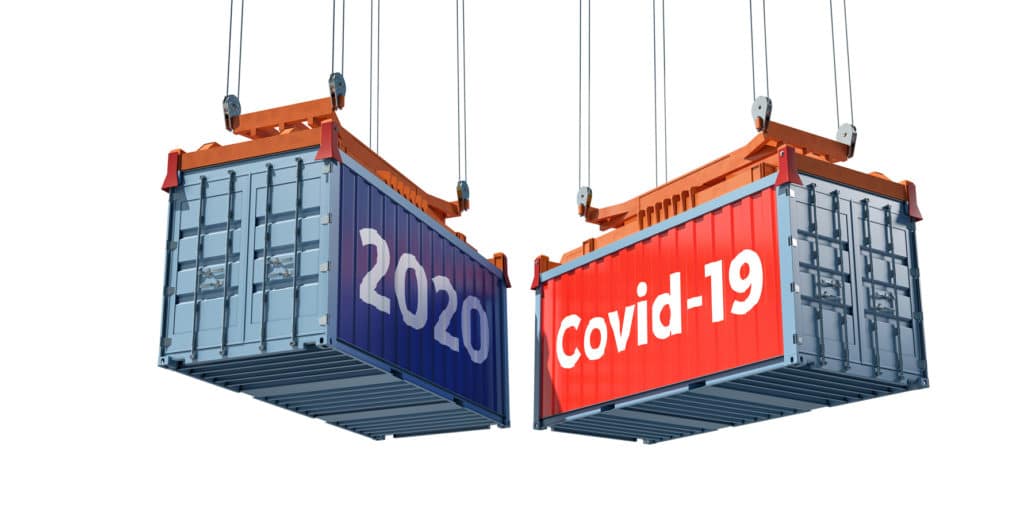 Marinetrans will keep you informed on Corona related changes concerning your transport of spare parts with our weekly updates per mode of transport and per region – along with the necessary measures that need to be taken. We will continue to work in a force majeure situation, case by case and will do all that is possible to find the most economical solution to meet the delivery deadline and to make your business run smoothly.
Airfreight capacity looks set to tighten further during November and December as demand for space is at a premium. Rates ex Asia will see the largest spike compared to ex Europe where a bit more stability exists and capacity. Peak season is underway which always cause a spike from August through December but the year it is affected even more negatively due to:
Switching sea consignments to air. As most are aware, sea freight prices are astronomical and at the same time schedules are unreliable.
E-commerce is eating up tons of space on an already stressed market. Airlines trying to cover costs of running flights with limited passengers and schedules.
For information on how a plane is loaded in priority: Priority is given for loading cargo flights are: Medical equipment & supplies, Perishables, Post, Baggage, Priority paid cargo, General paid cargo. To check any airline operational information click here: https://www.tact-online.org/covid-19.
Transit times have increased to most destinations by 2-4 days additional. Covid-19 Surcharges have been implemented and recently raised again this November. All shipments coming into EU now have to be cleared customs. Before if the value was Euro 22 or less, no custom clearance. Now all these ecommerce shipments to private people have to be cleared and causing huge courier back logs to arrange the clearance. Delays 3-7 days.
Container rates dropped recently but prices could rebound if efforts to ease congestion in US ports fail and demand from Chinese shippers picks up ahead an early Lunar New. Delays are to be expected for sea freight shipments.
Do plan on delays and build in a minimum of at least 3-5 weeks additional to sailing schedules given for your all Ocean freight shipments. Shipping by full container is more reliable than shipping via Loose Container Loads.
Europe: Waiting hours incurred by drivers has increased due to so many restrictions of staff, medical checks and crew availability. Driver shortages exist in Europe too and in the USA, it is extreme and reports indicate no improvements for months.
Our ETL Trucks continue to roll each Friday from Oslo (Tuesday also), Gothenburg, Copenhagen, Helsinki, Hamburg (Tuesday also) and London to Super Hub Amsterdam. USA trucking capacity has stabilized but capacity is very tight, and delays are often due to Covid demands and check points.

On Board Services / Port Information
Our Last mile delivery service remains in tack in most global ports. It may take a bit longer but as in Dubai and Amsterdam congestion is causing delays by handling staff to hand over the cargo. Delays of 1-3 days. Port congestion in China is delaying many vessels for several weeks! We suggest that you use this service for added control, especially in these tough times. Please consult this link for port service listings: https://www.nepia.com/industry-news/coronavirus-outbreak-impact-on-shipping/ (Credit to The North Club)
Please see below for the personal situation in the Netherlands. Business wise, no changes.
As per today 10 January the school is open again for kids and children up to 16 years of age. Schools for students and universities are still closed as we are still in a lockdown. The market situation didn't change. Due to lack of flights because of tight restrictions per country the airfreight market is still constrained due to huge imbalance of demand and supply. This also counts for the Ocean freight, lack of capacity, port congestion and shortage of wheels keeps the pricing high.
Airfreight Export: We still face some congestion at the ground handling agents on both import and export side. For import this means that it can take longer before we have the cargo in our warehouse. For export it can be that the face longer delivery times to the ground handling agent of the carriers. This will in general not have any influence on the air export shipments. The airfreight pricing is still very high due to lack of capacity and demand and supply. To the States, South America, Australia and even to Singapore it is quite challenging to get the space against decent pricing. We as Best Global Logistics do everything, we can to supply our customers without any doubt. The sooner we book the shipments the better chance we have to get the job done in time.
Road Freight: Trucking is going ok; it is however still very busy in the market with some lack of wheels. However together with our partners we still manage all deliveries.
Ocean freight: is a real challenge. Still lack of capacity against very high pricing. Even some carriers don't accept any export bookings anymore for this year. The market is still extremely overheated and in in-balance. Shortage of containers still applies, and the end of the year is coming which always results in high demand. Key is to book in time. Allow 4-6 weeks extra as to when the cargo is needed at destination.
The number of newly infected persons in Germany is at its highest level since the outbreak of the pandemic, with more than 37,000 within one day, but so far are no new restrictions and no new lockdown in sight. At this stage, our office is fully operational.
AIRFREIGHT: Shanghai is still very difficult Very expensive, and space is also not available. It will take some time until that has calmed down. In general, available Flight capacities are very limited and partly booked out far in advance.
SEAFREIGHT: There are still significant delays in arrivals and departures. The biggest problems now are the lack of equipment and the restrictions on the delivery of containers (max. 48-72 hours before departure), as all container terminals are still overcrowded due to delayed ships.
TRUCKING: Normal. No problems/delays.
IMPORT: Air cargo import can be handled without any obstacles or delays, but we are facing significant problems with air freight imports via Frankfurt airport.
Due to the high import volume and changes in the IT system, huge backlogs cause delays in transit of import shipments to Hamburg.
For Sea freight there are significant delays in the arrival of containers due to late departures at shipping ports.
ONBOARD DELIVERIES: Normal. No problems/delays.
All Operations are normal. Logistics, transports and main necessary production and business lines will stay on work as normal in this period.
IMPORT: Normal. No problems/delays.
ONBOARD DELIVERIES: Normal. No problems/delays.
Greece lockdown lifted. All services and facilities are working. For our branch, we are 100% back in office (government issued statement for unvaccinated employees to provide weekly rapid test results /penalties for noncompliance). Warehouse is on normal staff working.
AIRFREIGHT: We're still facing serious backlog & congestion for most key destinations globally and rates are increasing day by day (over-peaking especially for the past 2 weeks).
SEAFREIGHT: No major problems on Export / import, But – No stabile rates & congestion issues. Delays on unstuffing LCL shipments.
TRUCKING: No delays for the time being but facing capacity issues for trucking to EU / Turkey. Working on more frequent stabile routings, especially to NL/DE/TK.
IMPORT: Import handling for Air is functioning normally (only DHL handler at airport has restriction on pick up timeframe 11:00-16:00 our LT every working day).
ONBOARD: No restrictions or COVID related delays to go onboard.
AIRFREIGHT: Airports are more congested and all of them invoice us a surcharge for COVID when collecting any cargo from their warehouse. Regarding Export, fewer flights are available and air rates have increased for some destinations.
SEAFREIGHT: Normal. No problems/delays.
TRUCKING: Trucking working as usual.
IMPORT: Longer waiting time due to customs working from home and therefore, slowing the process.
ONBOARD DELIVERIES: There are some terminals where we can have limited access to vessel, hence in such case POD cannot be obtained
As at today, our Osaka office & Warehouse are fully functioning for 100%. All vendors including Airlines/Brokers/Trucking companies/etc are affected due to remote work or related issues which will cause heavy delay on quotation and arrangements.
AIRFREIGHT: We are facing serious backlog & congestion for EU & USA & SINGAPORE & SHANGHAI and rates will be increased from October dramatically.
SEAFREIGHT: We are facing serious short on space for USA/EU destinations for both FCL & LCL.
FCL Rates are still remained at very high level.
TRUCKING: Trucking is working normal.
IMPORT: Import handling for Air is functioning normal but Import handling for Sea takes a little longer time due to limited staffs.
ONBORD DELIVERIES: Onboard delivery in Japan is functioning normal. There are some terminals where we can have limited access to vessel, hence in such case POD cannot be obtained.
With growing number of people being infected, government have tightened its restrictions whereas now they are allowing gatherings up to 4 with all businesses to be shut down at 9pm until Jan. 2nd, 2022.
AIRFREIGHT: Spaces to main Europe are being overbooked and bookings are based on case by case subject to space availability only via express service. Booking in advance are highly recommended to have any chances of securing an early booking.
SEAFREIGHT: Still spaces are basically fully booked into middle of Jan and we are anticipating for more space issues & rates as we are seeing more and more carriers bypassing Korea callings.
TRUCKING: Normal Operations.
IMPORT: Normal Operations.
ONBOARD DELIVERIES: Normal operations.
AIRFREIGHT: Airfreight shipments could be cleared and delivered onboard on a timely manner. We need copies of AWB, invoice and Packing list 2 working days before shipment arrival.
SEAFREIGHT: Due to current limitations because of Covid 19, we need minimum 4 working days to clear Sea freight shipments and arrange onboard delivery. Copies of BL, invoice and PL required well in advance (minimum 3-4 working days before shipment arrival).
TRUCKING: No delays observed, trucking functions are normal.
IMPORT: Limited staff at all key points. Hence, send us Shipping documents for well in advance (as mentioned above).
ONBOARD DELIVERIES: Onboard delivery in Sri Lanka is functioning normal. However, outsiders are not allowed to board ships. Hence, PODs and other documents will be sent onboard together with shipment boxes to get ships stamp & signature.
Our company staffs are all in normal working at office and warehouse. China government have implemented more strict epidemic prevention policies, it will affect both exporting and importing and local delivery. Recently many new Covid cases found at China, which will affect our trucking and delivery, now Beilun port is almost prohibited delivery, pls help to check case by case if have any supply at this port. China will have Lunar New Year holidays from January 31st to February 6th, 2022, pls inform client provide delivery instruction in advance.
AIRFREIGHT: We can arrange airfreight to most airports. Almost all airlines resumed, air-freight rate is still on higher side.
SEAFREIGHT: We can book to Asia, such as Japan, Korea, Singapore. Space and price are still tight and higher to USA and Europe, especially for OOG space. There is heavy delay (approx. 5-20 days) for vessels depart from Shanghai port due to port congestion. Recently departure delay is longer, pls grant more time for sea-freight exporting.
TRUCKING: Truck is working in normal. 48 hours Covid testing report is required for drivers at most places, which takes longer time and extra charges.
IMPORT: We arrange customs clearance and delivery at almost all China ports. For epidemic prevention, terminal ground handling and release time is a little longer.
ONBOARD DELIVERIES: On Board deliveries are functioning for most ports. Due to contactless delivery, many times we could not get POD from vessel, need client help to get POD from vessel. Due to Covid effect, some terminals prohibit delivery, the situation changes quickly and sometimes we get notice in short time, we will follow closely for each vessel and keep you informed.
From 3rd Jan ports like Fujairah, Khorfakkan, Abu Dhabi entry is permitted only with green pass, attached notice. We will have PCR test cost for few shipments. From 01st Jan' 2022, weekends will be Saturday & Sunday, Our Dubai office working hours will be Monday to Friday (8 AM to 5 PM)
Effective 27 November 2021, until further notice, Emirates is temporarily suspending passenger operations to and from South Africa (Johannesburg, Durban Cape Town), Zimbabwe (Harare) and Zambia (Lusaka).
AIRFREIGHT: kindly consider using EK for all urgent shipments into Dubai, Pls note that all other Airlines inbound cargo arriving to Dubai will be delayed until further notice.
SEAFREIGHT: Space issue to few sectors, please cross check for the space. Due to the JEA port congestion there is 1-2 days additional delay for import shipments than the normal.
TRUCKING: Abu Dhabi deliveries require 2 days prior notice for gov. approvals following Covid protocol.
IMPORT: Operates as usual.
ONBOARD: Limited persons will be permitted to attend vessel @ Jebel Ali, rest all open as normal.
Please note that for Abu Dhabi deliveries, it will be subject to the permissions at the gate. ***Restrictions are back at Abu Dhabi border due to the increase in cases. It is an electronic machine which will detect the positive cases, so if any detected then they will go for antigen test to validate it, so even if we have negative certificate and the machine detect as positive, then we will lose much time there till the antigen results are up.
We are functioning our office with 100 % strength.
AIRFREIGHT: Flights space availability is getting gradually better, and rates are also getting a little cheaper but still higher side than Normal time specially for Europe & US.
SEAFREIGHT: Sea Freight functioning with good success. Inventory of containers are also limited and rates for Europe and Far East sectors has increased.
TRUCKING: Trucking is working normal.
IMPORT: Export/Import is functioning Normal at Airport and Sea ports.
ONBOARD DELIVIRIES: All imports for on board deliveries are functioning as normal and going on with good success with some restrictions/guidelines.
W.e.f 15 Nov' 2021, there will be swab test charges incurred for delivery to barge stations (Penjuru Terminal & MSW), Container Port, Jurong Port, Shipyards or any request by the authorities, suppliers etc. ART – Under normal circumstances, validity for ART test is 3 days but subject to individual requirement. Some vendor requires 24 hrs test result instead of 3 days.
AIRFREIGHT: Flights to Africa – due to the recently discovered Omicron coronavirus variant, will check with airlines by next Monday and revert if any embargo to Africa. USA & Europe – due to COVID-19 TRUCKING Services to USA & Europe will have some delay. Huge backlog & congestion for EU & USA & Middle East & China. Rates are increasing dramatically and are subject to change according to supply & demand. Space & Rates for Asia (except China) are still manageable. EK – flights to JNB. To CPT and DUR – subject to confirmation at time of booking.
SEAFREIGHT: Port Congestion – waiting time might increases from current 3 – 5 days to 5 – 7 days. Most of the outbound shipments are fully booked till end of this month for major ports. Rates increased and uncertainty of sailing schedules. Penalty might be imposed for any cancellation. Sea Import – Longer un-stuffing – some agents take 10 to 14 days.
TRUCKING: Same. eg. delays due to border controls
Trucking Singapore / Malaysia: Due to Malaysia Full Lockdown from 01 June'21, trucking company are facing problems with limited number of drivers available for cross-border operations. They also require at least 3 working days for application of Cross Border Travel Permit which is based on first come first serve basis. Mandatory COVID-19 tests for cargo drivers entering Singapore from Tuas and Woodlands checkpoints. Interaction with Cross Border Transporter – PPE: – Surgical mask, face shield or goggles and gloves; Swab Test: 7D RRT – EVERY 3 DAYS INTERVAL FOR PCR AND ART, 14D RRT – PCR
Important – Please ENSURE NO AMENDMENT of Cargo Import Permit once approved. Any amendments will definitely result in delay and missed delivery.
IMPORT: Air Import handling is functioning normal. Sea Import handling is taking longer time due to Port Congestion and CFS Charges are increased.
ONBOARD DELIVERIES: In view of current situation, please expect some delay and required more time.
Delivery onboard at Container Port / Jurong Port / Anchorage – Boarding Officer is prohibited to go onboard. MUST conduct CONTACTLESS CARGO OPERATIONS. All endorsement of documents (D/O, Manifests etc) will be via email only. We'll attach a note to the Master indicating our email address. All items that lift up to vessel can be taken back – including safety nets, ropes, slings and pallet. However, all items taken back must be sanitized. PPE such as face mask and hand gloves must be worn prior cargo ops. Upon end of cargo ops, PPE shall be immediately disposed. Driver / Cargo Hand must go for swab test with negative result within 3 – 7 days prior entering the Container Port / Jurong Port / Barge Station. With effect from 1stOctober 2021, additional Antigen Rapid Test (ART) is required.
Landed Spares – allowed to land. We'll sanitize and keep the Original GLF in a plastic bag if any.
Delivery to Shipyard – some of shipyards required driver / cargo hand must go for swab test and the result must be negative. Driver / Cargo Hand must go for swab test with negative result within 3 days prior entering the shipyard. Mandatory to wear N95 face mask.
Latest requirement from the MPA and Shipyard: –
1. Supply Boat – Boarding Officer is required to produce proof that he/she has a valid Covid-19 Polymerase Chain Reaction (PCR) test taken as part of the 3 Day / 7-Day RRT programme. In addition, will also be required to take an Antigen Rapid Test (ART) on the third (3rd) of fourth (4th) day of the 7-Day RRT cycle. At present, the cost of the ART is not subsidized and must be fully borne by the shore-based personnel or the company.
2. Shipyard – same as above. Some shipyard is not allowed our Boarding Officer / Driver / Cargo Hand to leave our truck IF WITHOUT ART.
IMPORTANT NOTE: ALL ARRANGEMENTS SUBJECT TO CHANGE / APPROVE BY MPA (MARITIME AND PORT OF AUTHORITY OF SINGAPORE) FROM TIME TO TIME.
Currently issues we have experienced lately is:
1.Severe berthing delays at all South African Ports due to inclement weather conditions which is further compounded by ageing equipment.
2.Shortage of air cargo capacity and airlines upselling on rates quoted.
PLZ – back to normal.
CPT / SLD – not affected.
Vessels berthing at Richard's Bay will likely be delayed.
AIRFREIGHT: Severe delays (4-7 hours) experienced when collecting airfreight imports at JNB due to the high volume of cargo being handled for the entire country.
SEAFREIGHT: All ports operating as normal, but delays can be expected as the backlog is cleared.
TRUCKING: Trucking between JNB>>>DUR now in operation. Expect delays due to backlog.
BORDERS: Land borders are open but severe delays experienced due to insufficient health authorities processing COVID-19 testing.
IMPORT: Long handling times for clearance due to shift working/rotation, corona/diseases/quarantine/limited staff at airlines/airports/ports.
ONBORD DELIVERIES: Slight delays due to corona testing but mostly back to normal. Delivery personnel not allowed on board the vessel.
As at today, our Egypt office & Warehouse are fully functioning for 100%.
AIRFREIGHT: Airfreight is functional normal .no backlogs or delays
SEAFREIGHT: Same, e.g. port congestions, corona diseases/quarantine/limited staff at terminals. Sea freight works normal. quarantine checks happen as precautions measures without any limitations in staffing or terminals
TRUCKING: Trucking is working normal with no delays or limitations
IMPORT: Import handling for Air is functioning normal, no limitations or restrictions in staff or terminals.
ONBOARD DELIVERIES: Onboard delivery in Egypt is functioning normal. onboard delivery occurs while staff is following daily healthy. Precautionary measures come into effect.
Please contact us for any specific arrangement and we will look for the best solution. We will continue to advise you as we see critical events. Thank you for your business and your trust.
AU offices remain open and operational 100% with limited Covid restrictions currently in place.
AIRFREIGHT: Import airfreight remains restricted due to flight limitations and airline backlogs coming into AU.
SEAFREIGHT: Delays are being experienced due to congestion through transhipment hubs to AU, plus local AU ports becoming congested with further unpack/handling delays.
TRUCKING: AU internal transfer delays are further being experienced due to cross border checks plus increased volumes causing added handling delays.
IMPORT: Customs clearances going through with minimal delays currently. Some handling delays at terminals due to congestion.
ONBOARD DELIVERIES: Deliveries to vessels still operating normally, but subject to port/berthing changes and added time is recommended for import handling to vessels.
There is a severe shortage on equipment and trucks to pick up containers from the ports these days. Some drayage companies are booked several weeks out. Due to unprecedented record level of imports arriving into the U.S., there is a severe CHASSIS & LABOR SHORTAGE + PORT CONGESTION. Please expect Delays & potential Increased Costs.
AIRFREIGHT: US has since Christmas eve cancelled more than 4750 flights including today. Domestic and in & out of the US. Another 675 flights today in danger of delay/cancellations. All due to increase of Covid and Omicron. Huge staffing issues. High demand on Airfreight causing all airlines filling up the space quickly. Can go less than an hour and we confirm a shipment and the booking we wanted the space is already gone. Air freight lift is showing some back logs to selected destination such as South America. Asia and Europe.
COURIER SHIPMENTS: Be aware that DHL/UPS/TNT/FEDEX has had HUGE trouble lately with HIGH DEMAND and they have not had enough employees and trucks to keep up with their volume on the domestic movements. SO HUGE DELAYS ON SOME SHIPMENTS.
SEAFREIGHT: Ocean Imports: No change noticed on wait times or truck availability to collect ocean freight. Exports from Asia are very heavy, severe backlogs are being experienced in Los Angeles & East Coast for in bound containers. Present back log at Los Angeles can be 4 to 6 weeks. Container Shortages are being experienced both inbound and outbound. Shipping lines has stated moving containers from the West coast to the East coast, due no more space on the West Coast. Savannah, Charleston area is almost impossible to get trucks, Pricing is fluctuating on a daily basis General Rate increases are being announced for this month. New long-term contracts are not being entertained by ocean carriers due to the volatility.
TRUCKING: HUGE delays with LTL and same with Courier shipments, once they have processed customs, they now go a lot on their domestic trucks and causes huge delays. Hazmat Trucking fee will go up by 15-30 %, Will be added 15 % Fuel Surcharge to Onboard and trucking rates, as Fuel rates are going through the roof in the USA. Lastly, price of lumber is also going up like crazy, so cost for pallets will also for the time be increased to about 10-25 USD pr reg pallets. All due to supply chain issues. Hot shot trucking has been running pretty normal until lately, also here now due to extreme high demand all over. Seeing difficulties getting 18 wheelers and also Hazmat drivers and trucks and availability and rates are going up like crazy on certain trucks and lanes these days, especially out of town and interstate runs.
IMPORT: Airfreight: Airlines have longer than normal waiting times for collection due to short staff and reduced opening hours. Some airlines (AA, ANA, BA, JL) are no longer open on the weekend so not possible to pick up cargo until Monday with weekend arrivals if needed. KLM is closed on Sunday's and close earlier on Saturday (1600) so difficult to get anything from KLM on weekend if Sat arrival. Customs: Longer processing times for CASR due to short staff / staff rotation – currently working every other day. Several airlines and handling partners have again increased their rates.
ONBOARD DELIVERIES: Everything is still pretty much going as normal with those. Only can note that New Orleans is slowly getting going again. Still some congestions and delays with the vessels getting in, but we can operate deliveries there. Our agent is operating and doing deliveries and the airport warehouse are now opening back up again to pick up cargo.
** National Holiday Notice – November 15th (Monday) "Proclamation of the Republic" **
** Local Holiday Notice (Santos, São Paulo and Rio de Janeiro) – November 20th (Saturday) "Consciousness Day" **
Airfreights: can be cleared and delivered and depending of the region, spare parts can be forward directly to destination, without pass to GRU, however, the best option nowadays is being attended via GRU in São Paulo and from there continue by truck to the delivery Ports.
SEAFREIGHT: So far, no restrictions.
TRUCKING: TRUCK DRIVERS STRIKE – At the moment the main highways in Brazil are not blocked, also considering that Government increased the security to avoid it.
At Santos port, the transportation of empty containers between Santos x Guarujá (internal Haulage) are being totally affected due to lack of trucks. The empty return to the marine terminals and depots is reduced considerably.
Regarding laden containers, the delivery of export units is being performed under Military Police escort via convoy operation, to avoid blockage and not put in risk the safety of others truck drivers. The import units are being kept at marine terminals and there are plans to have it collected with escort too, once marine terminals might face issues with yard occupation soon.
Operations of Solid Bulk and other cargoes are also being direct affected due to lack of trucks. The Agencies Union as well as Marine Port Operators Syndicate are working to push authorities to provide security for the drivers to enter the port area, since the manifestants are based on the port entrance area to intimidate the ones who are still working. The main reason for the strike is the increases of diesel/fuel, which had already 8 adjustments along the current year. Also, some past demands as freight levels plan, tolls costs reductions among others are part of the requirements.
The Government offered an assistance value of BRL 400,00 per month, which as per Truck Driver's Union are not enough. There are some rumors that strike movements will be reduced gradually as from now considering that, not working, the independent drivers can't guarantee their revenues. Security level (ISPS Code) of BRSSZ/Santos port is being elevated from level I to level II as from Nov 01st 00h01 /2021.
It means that marine terminals and others port facilities must to apply additional security measures. On the notice, the Authorities determined that monitoring via camera must be increased, and also give authorization for Military Police of State to have free access at port. Important to inform that vessels at port also need to take necessary measures on board looking to comply with that.
IMPORT: No impact on clearance activities. Airfreight we require 3 working days (depend of location) and sea freight about 5 days.
ONBOARD DELIVERIES: No restrictions.
All ok so far. No strikes, no curfew, airlines, ports and transport companies are working as usual. We are releasing during weekends, but we can experience some delays in availability of cargo, as all in subject to WH airline personnel. (on weekends the workforce its always reduced)
Just to keep in mind:
AIRFREIGHT IMPORTS: Kindly note that we will not be able of releasing cargos during weekends (only until Saturdays 0800hrs to 1200hrs). So, we kindly request to book your cargoes with arrival weekdays. Otherwise we will not be able to release and deliver.
Below Airlines warehouse working schedule for releases:
Daytime schedule:
Monday to Friday: 0800hrs to 1600hrs
Saturday: 0800hrs – 1200hrs
Nighttime schedule:
Monday to Friday: 2130hrs to 2300hrs
Saturday: 1930hrs – 2130hrs
Sunday: 1930hrs – 2130hrs
ONBOARD DELIVERIES: Clearance/on board delivery running at 1-3 working days (weekdays) Please send pre-alerts arriving weekdays.
Want to know what services we can offer for you?